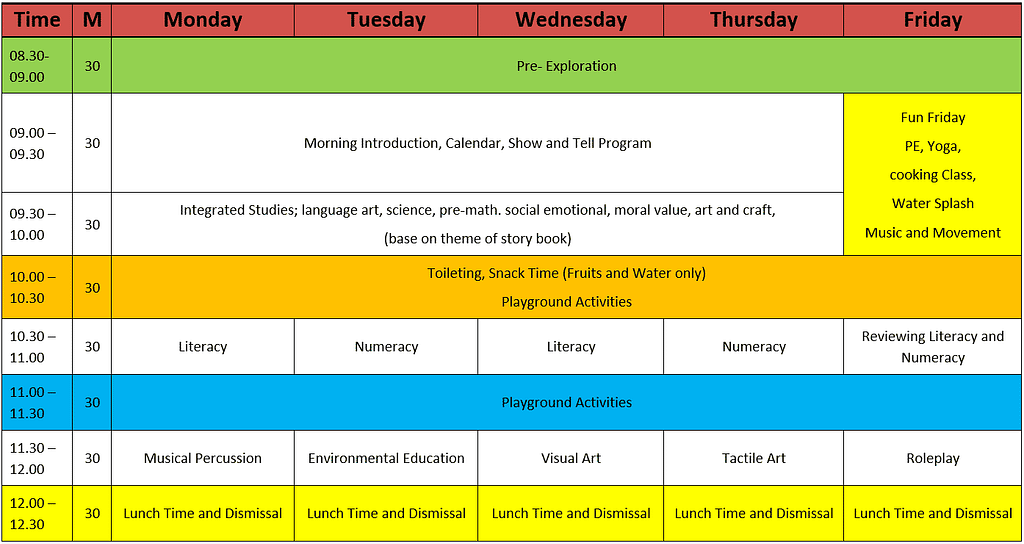 Timetable Description
Integrated Lesson
Each integrated lesson concludes with a story. A designated story-time encourages discussions, puppetry, retellings, original play, graphics and presentations of all kinds. Teachers may also tell a story through video. Children often take these stories and retell them in play. Story content can be taken from our resource documents, from the local library, or a teacher can create them for a specific purpose. Stories are often rhythmical with repetitive verses that allow the children opportunities for recall, rhyming, and retelling.
Indoor activities
The children have free play, indoors, every day. Typically, they create imaginative play situations with the materials, toys, and structures in the room. Some children may build from blocks or other manipulatives such as dominoes.
Outdoor activities
This session occurs every day. The children are actively encouraged to engage in a range of activities. This may involve large apparatus such as the fort structure, the slide and swings, or the wooden wagons. It could also involve some of the smaller apparatus such as the sandpit, the stream, bikes, balls or building equipment.
Literacy and Numeracy Skills ( English and Indonesian)
Each child has an individual learning plan targeted to their particular needs in Literacy and Numeracy. Since the lessons are individual in nature they are encouraged to work at their own pace. Traditional preschool lessons take place here with the intention that the children will learn important academic skills.
Practical Lessons
These lessons are designed to connect children to their greater world and prepare them with skills they will use in their everyday life. They are introduced at the discretion of the teacher according to the needs of the class. They are designed so children can delve deeply into particular projects.
Painting / Visual art
Painting lessons proceed from color-stories. The teacher demonstrates the color and the design while telling a color-story, e.g. "I was walking on the beach collecting shells (painting the bottom of the paper yellow). I heard a bird call, I looked up and noticed the sky had turned red (painting the top of the paper red), near the sand the sky appeared to be a beautiful shade of orange( painting the middle orange)."
Craft/ Tactile Art
Operating in small groups with parent helpers, craft and tactile art is offered as a one-hour lesson to the whole class. Activities such as finger-knitting and other simple material crafts are included. For example, the children might make – felted bookmarks, sewn placemats, pillows for resting, shell hangers, finger-knitting bags and drawing mats.